It's funny, I've never had a sweet tooth, and here I am, running an online store that specializes in Dessert Inspired Home and Bath Products! 
I will say, this lack of sugar love does serve me well when I am asked to make desserts that you can actually eat! This week, I was asked to make 5 dozen cupcakes for my son's preschool party, and I can never say no to those cute little faces! While I could have just slapped on some icing, when I found out the theme was "Mad Hatter's Tea", well, I knew I had to do something special!!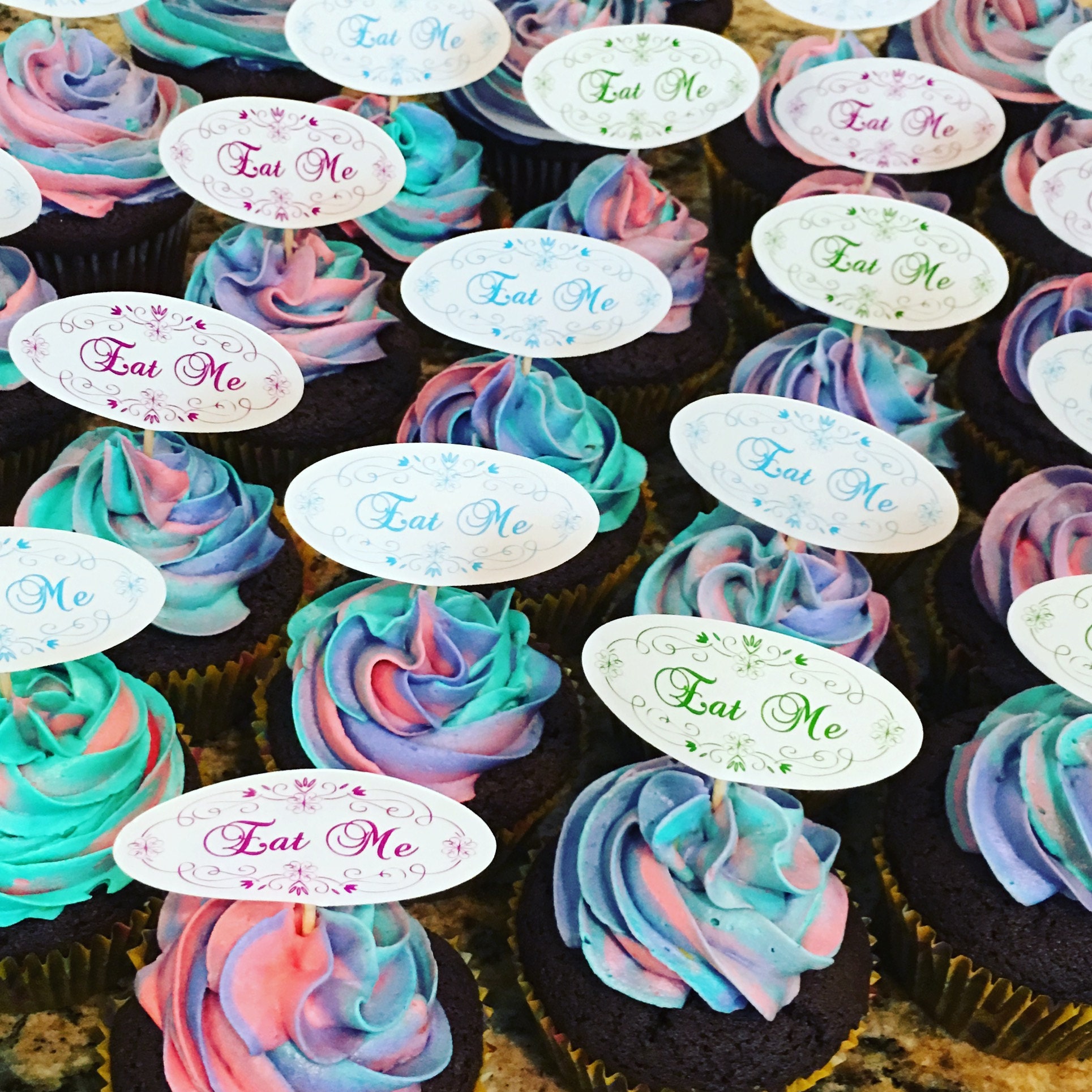 Since I had to make them gluten free, I played with my favorite Flourless Chocolate Cake recipe until I got them light and fluffy (my tip for keeping them from being hard as bricks? whip the egg whites and fold them into the batter!). After 2 test batches, we were good to go!
For the icing, I took my inspiration from the decorations his teacher ordered and decided to make the icing have a tie-dye effect (I feel like the Mad Hatter would appreciate a trippy look to his icing, right?) Using my trusty buttercream recipe (below!) I got to work. I was so happy with how they turned out and LOVED seeing how much the kids enjoyed them! The best part of the day? My husband surprised Clark and came to the tea as his special person. <3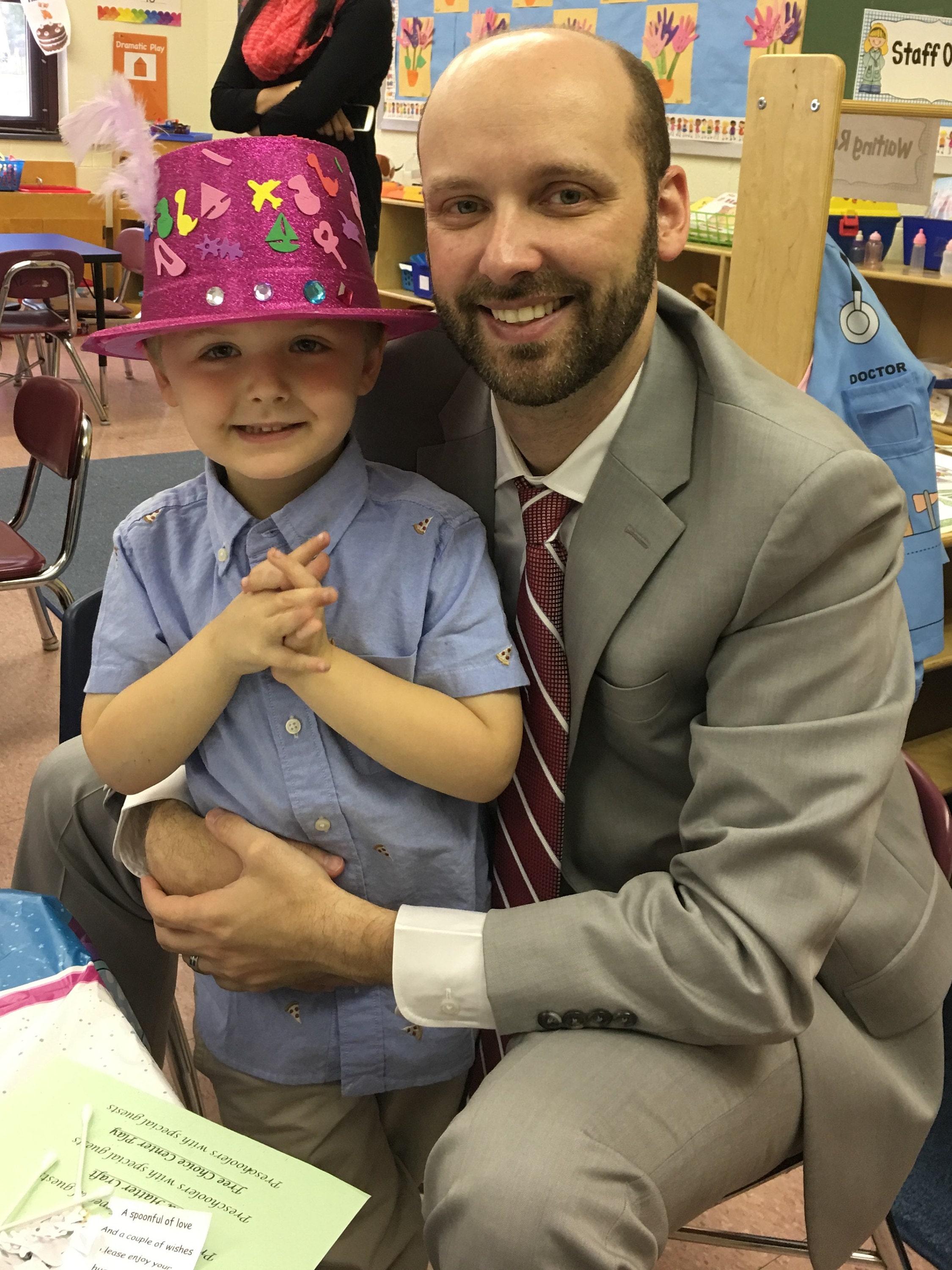 Perfectly Pipeable Buttercream Icing:
 Ingredients:
2 sticks salted butter, at room temperature (I leave mine on the counter overnight a la the Barefoot Contessa)
1 tsp Vanilla Extract
6 cups powdered sugar
1-2 tablespoons whole milk
Food Coloring (I use

 

this set

 

- it comes with instructions to mix any color you can think of!)
Piping bags (I prefer

 

disposable

 

as they are a PAIN to clean, but any kind will do)
mason jar
For Frosting:
Mix all ingredients with an electric mixer ( I do NOT recommend doing this by hand) placing one cup of powdered sugar in at a time and mixing SLOWLY. (Unless a powdered sugar cloud in your kitchen is your thing- I know my kids wouldn't mind!)
Once all sugar is incorporated, beat on high for a minute or two until light and fluffy. If mixture seems too stiff, add a bit more milk.
Seperate frosting into three different bowls (or more!) and add colors of your choice.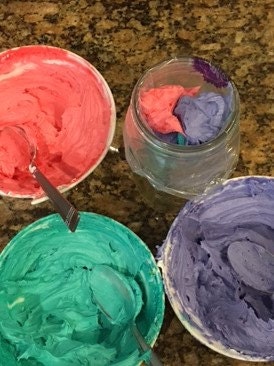 Then, put tip into bag and cut bag to fit. I then like to place my bag into a mason jar and roll the top down as far as I can so there is plenty of open space to drop the icing in!
Place small spoonfuls of icing into the bag, alternating colors until the bag is about 3/4 of the way full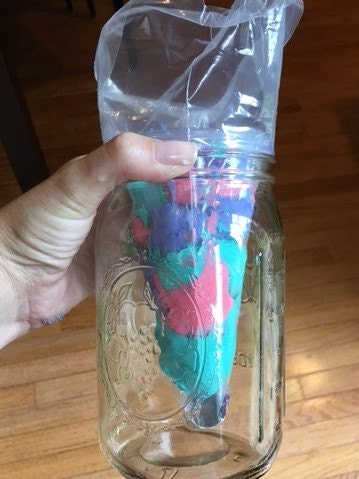 Push all the icing down to the bottom, then twist the top until the icing just starts to peep out of the bottom. Then, start frosting!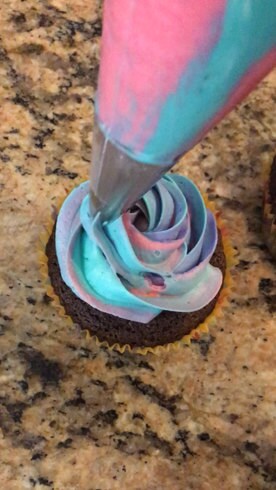 I love how pretty the colors look together! 
For a final touch, I added these EAT ME cupcake toppers. You'll go "mad" for these adorable cupcakes!